Thrive Creative Retreat
San Miguel de Allende, Mexico
The #1 Travel Destination in the World, as Voted by Condé Nast Traveler + Travel & Leisure Magazine
January 27 - Feb 1, 2020
The Thrive Creative Retreat is a 5 day retreat designed for entrepreneurial women who are ready to scale their business and THRIVE by making a living doing the creative work they love. There will be focused business workshops, time to reflect and grow personally and professionally, and great bonds formed with an intimate group of like-minded women. Join us to work on branding in all aspects of your business, focus your creative biz intentions and come away with an action plan. We will spend time discussing and creating content for social media and that means you will come away with powerful strategies to help you gain more visibility online (we love Instagram!). Our days will include a balanced mix of tailored business workshops, as well as plenty of time to process, rest, play and explore this culturally vibrant city all with a crew of new like-minded friends.

Meet Your Retreat Leaders
In 2018, Molly and Desha launched THRIVE! an online branding series that worked to answer all your questions about building a brand, licensing and collaborating with others, publishing a book and so much more about THRIVING with a creative career. The feedback from the THRIVE! online series was so overwhelmingly GOOD that Molly and Desha were inspired to create this in-person retreat for those in need of carving out both time and space to focus on the hard work that all of us need to do as we grow and focus on our businesses at any stage in our careers.

About Desha
International Retreat Leader, LifeSTYLE Design Coach, and Founder of Sweet Spot Style, Desha Peacock works with creative entrepreneurial women to upgrade their lifeSTYLE and live fully in their sweet spot. She is also the author of Create the Style You Crave and Your Creative Work Space.
Peacock holds a master's degree from The School for International Training, is a certified Global Career Development Facilitator, and has led workshops and retreats across the globe. She's been featured in Origins Magazine, Design Sponge, Flea Market Décor Magazine, The Jungalow, Where Women Create Magazine, ABC.News, The Huffington Post, The Houston Chronicle, YahooNews.com, Career Rookie, US News Money and has made radio and TV appearances across the nation.
About Molly
Award-winning ceramic artist and designer Molly Hatch launched her brand with a humble start as a studio potter. Infusing her tableware and home decor items with contemporary sensibilities and classical charm, her signature style blends modern whimsy with historic inspiration. The Molly Hatch brand quickly garnered a loyal following after her debut collection with Anthropologie in 2010 (which continues 9 years later with over 500 product collaborations!) Today, Molly Hatch collections can be found through the brand's partnerships with major retailers worldwide including Nordstrom, Bloomingdale's, Target, Bed Bath & Beyond, Belk, Dillards, Barnes & Noble and many more.
Hatch has authored and illustrated over 10 books, taught and lectured at over 100 colleges and universities in the US and abroad as well as successfully launched three online series teaching close to 1,000 students online.

Need help growing your audience?
Molly and Desha have a combined audience of over 60K on Instagram alone. The connection we have with our virtual audience has helped us to grow our businesses into multiple six-figure incomes. By joining us on this retreat you have unprecedented access to our collective knowledge and have fun while you're at it. You'll come home with endless content and tips and tricks for sharing for months after your return home.
Everything was beautiful. I made wonderful connections, friendships, and lifelong biz buddies.
I left feeling inspired to plan more and also do what feels right for me. I would definitely recommend this to a friend. It's a great way to gain clarity, while at the same time enjoy a lovely escape.
About San Miguel
San Miguel de Allende is a stunning colonial town in central Mexico that is rated by Conde Nast as the #1 travel destination in the world! Travel and Leisure Magazine has voted it the best city in the world two years in a row. Take that in for a sec, BEST CITY IN THE WORLD. Writers, artists and other creatives come here to be inspired by the culture, vibrant colors and gorgeous spring-like weather. Desha has led nine retreats to San Miguel and recently spent six months living there with her daughter. We know this city inside and out and will show you the absolute best of it.
Itinerary Sketch
Day 1: Arrival in San Miguel + Rooftop reception
You'll be met by your shuttle driver at Queretaro (QRO) or Leon/Guanajuato (BJX) Airport and taken to our beautiful, small Bed & Breakfast. Located in the heart of San Miguel de Allende, Casa Calderoni is situated on one of the prettiest streets in San Miguel. It's decorated in the traditional Mexican style that includes an open garden courtyard and rooftop with splendid city views. This evening you'll enjoy a rooftop reception and of course, margaritas! We will begin to get to know one another and set our intentions for the week. This evening, you'll tuck into your cozy beds for a restful first night.
Day 2: branding workshop + Walking Tour of San Miguel
8:30-9:00: Rooftop morning meditation (optional)
9:00-9:30: Breakfast
10:00-12:00: Goal setting + Branding Workshop with Molly + Desha. After setting our intentions for retreat, we'll dive right in to our first Thrive workshop on branding for creatives.
12:00 1:00: Lunch together at one the best rooftop restaurants in town. Hello jicama taco.
1:00-3:00: This afternoon you'll enjoy a private walking tour of San Miguel to learn about this beautiful city's history + architecture. 3:00: Take some to rest or continue to explore the city. You'll be provided with an extensive guide with all of the best places to eat so you can enjoy dinner on your own this evening. During this free time, you might also work on your biz plans or meet 1-1 with Molly or Desha about how to scale your biz.

I give this retreat an A+++ I love the restaurants, the walking tours and all the art in San Miguel. I fell in love with the city! Our time was a great mix of business with art. Desha has a calming, joyful demeanor. She's a giver and wants others to succeed in their creative businesses. The retreat was well organized and allowed for freedom and doing things your own way. I feel empowered by the other beautiful women on the retreat and am so ready to implement my action plans!
Melissa Partridge, Colorful Intuitive Artist
Day 3: Licensing workshop with molly + Visit to Fabrica Aurora Art Galleries + shopping
8:30-9:00: yoga (optional)
9:00: Breakfast
10:00-12:00: Molly has partnered with over 35 companies across the globe. In this Branding/Licensing Workshop + Q&A with Molly she'll share how she does it plus and answer all your burning Q's about licensing and how to grow your brand through partnerships and manufacturing.
12:00-1:00 Enjoy lunch on your own.
1:00: Today we'll explore the galleries, art studios and antique stores at Fabrica Aurora. La Fabrica Aurora is one of San Miguel's most unique destinations, a beautiful art and design center housed in a former textile factory from the turn-of-the century. Here you'll find working artist studios, contemporary art galleries, ageless antiques, unique furniture, textiles, home goods, handmade jewelry/clothing, and gourmet restaurants. We'll spend a couple of hours together exploring the studios, then you are free to have a cappuccino or glass of wine in the cafe, or explore the local Mercado Ignacio Ramirez.
At the local artesanal market discover woven rugs, tin mirrors, hand-woven shawls, embroidered linens, hand-painted pottery and the latest folk-art trends.
Evening: Enjoy dinner on your own and free time to continue to exploring the town, work on your biz plans or meet 1-1 with Molly or Desha about how to scale your biz.

Day 4: Instagram for creatives workshop with Desha + Shibori dyeing
8:30-9:00: Rooftop morning meditation (optional)
9:00: Breakfast
9:30-11:30: Learn how to create branded content that will help grow your visibility online in the Instagram for Creatives Workshop with Desha. Learn how to create branded content that will help grow your visibility online. Start attracting your online tribe with a special focus Instagram. Learn how to convert those followers to your email list.
11:30-1:30 Lunch on your own.
2:00- 5:00: Today we have the pleasure of learning the art of shibori dying with Nicole of SMA Workshops. In this hands-on beginner level workshop you will learn the basics of shibori-inspired folding and binding techniques to create beautiful patterns on fabric with indigo dye. We'll discuss setting up the vat and spend time preparing our materials for dyeing. By the end of class, we will finish the dye process and you will be amazed as the stunning one-of-a-kind patterns are unfolded and revealed!

Evening: Enjoy dinner on your own and free time to continue to exploring the town, work on your biz plans or meet 1-1 with Molly or Desha about how to scale your biz.


Day 5: Free time + relaxation at Thermal hot springs
9:00: Breakfast
10:00-3:00: Free time plus lunch on you own. Explore the local art markets, visit Desha's fav boutiques, see the street art in Guadelupe or take some time out to reflect on all you've seen and learned.
3:00: Depart for Los Senderos, a nearby thermal hot springs, where we'll spend the remainder of the day and have our farewell dinner together. Los Senderos is a small sustainable community that contains a small beach and lounge area that's built to nourish the mind, body and spirit. The natural lagoon offers a unique space to refresh and revive.
Day 6: Departure Day
8:30-10:30am: Breakfast included. Transfers arranged for your return trip to the airport.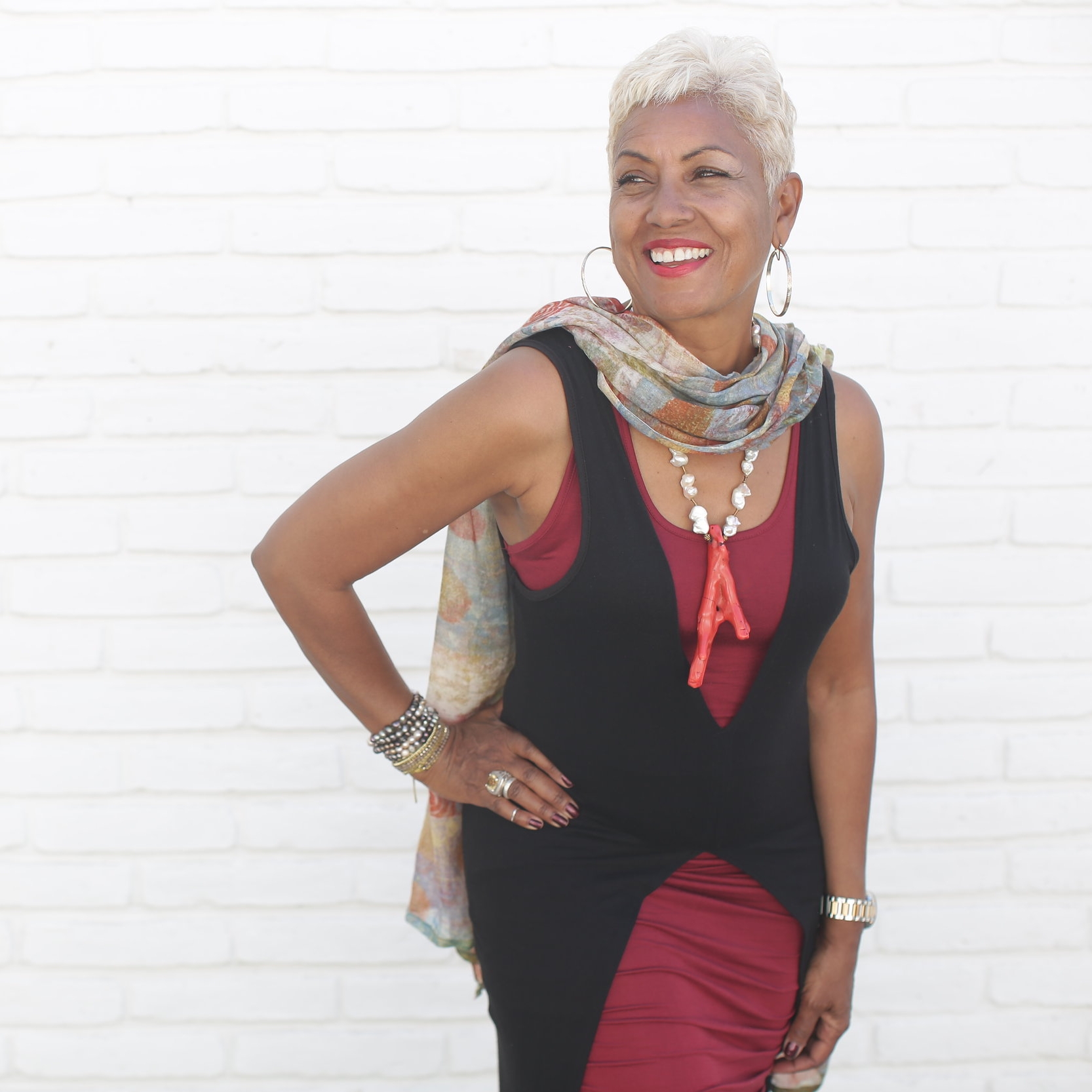 I love San Miguel de Allende and jump at every opportunity to visit. During the retreat we talked about our businesses, got lots of feedback on brand clarity, had amazing photo styling sessions, and hung out with like-minded creatives and biz lady professionals. We also did lots of shopping, eating and enjoying the sights and people of San Miguel. If you're looking for a retreat-style vacation and want to work on your business or a business idea at the same time, then this retreat is for you!
Robyn McClendon of @rarebirds, Artist + Creativity Coach + Founder of The Holy Grail Project
Creative Retreat Includes:
5 nights accommodation at Casa Calderoni
Limited to 10-13 ladies

Delicious fresh breakfast (daily) at Casa Calderoni + one lunch

Welcome reception and farewell dinner

Private guided walking tour of San Miguel with one of our best local experts

Transportation and entrance fee to the thermal hot springs

A curated market and shopping tour including our favorite hand-picked shops

Round trip transportation from Leon or Queretaro

Three Business workshops with Molly + Desha

A hands-on modern Shibori dyeing workshop
Investment for the Creative Retreat is Ranges from $2400-$2800 depending on your room choice (scroll to the bottom to register and learn how to SAVE!).
I'm so grateful for this experience. It's taught me a ton about being an artist in business, introduced me to some amazing women and bonded me tighter with the ones I already knew. This retreat has been instrumental in helping me to grow Tulusa and keeping me focused and on track. Feeling incredibly full of heart of right now.
Sue Henry, Artist & Founder of Tulusa
Creative Retreat Bonus
Register for retreat now and get a 30 min one-on-one meeting with Molly and Desha to go over your most pressing biz q's. Molly is an expert in art licensing, publishing, branding and scaling your art business. Desha can help you map out a 6 month plan to maximize efficiency, grow on IG, grow your email list and make sure you are working towards your Sweet Spot and not away from it.
Register Here
Two ways to register.
1. Single rooms are $2800 (register before Oct 1 and save $100!)
2. Shared rooms are $2400 (register before Oct 1 and save $100!)
*Final payments must be made by Dec 27. Payment plans are available at checkout.
* If you'd like to share a room with your bestie, please send a note to: desha@sweetspotstyle.com